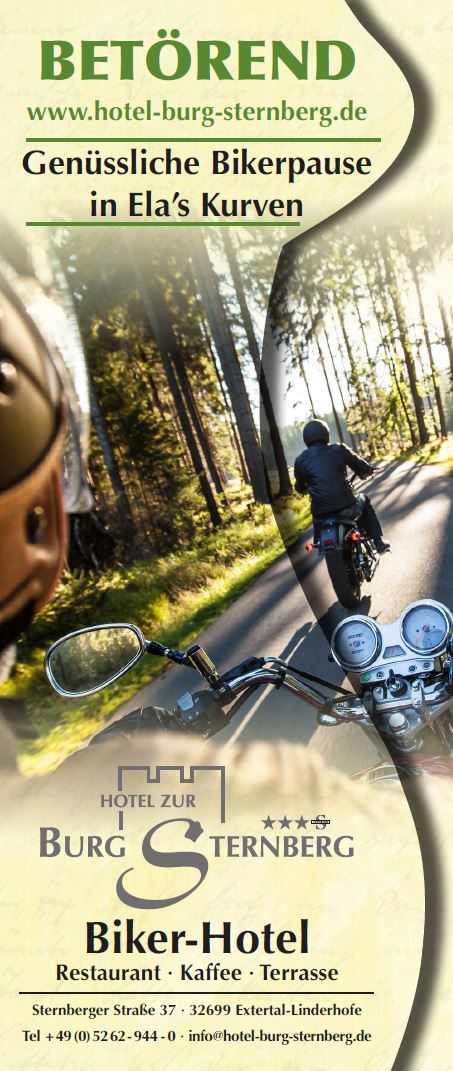 On two wheels centrally located between Weserbergland, Wiehengebirge and Teutoburger Wald
The varied routes and the excursion destinations along them have become a popular destination for individual riders, groups and motorbike clubs for years. The hotel is reached by "Sternbergs-Kurven" in the "Lippische-Bergland".
Our hotel offers numerous covered and sheltered parking spaces, garages, drying room, swimming pool, beer bar, beer garden, spacious parks and is the ideal starting point for rides in the surrounding area. Our kitchen is known for good food in a convivial atmosphere. Half-board and full-board can be booked.
Bikers are always welcome here. We ride motorbikes ourselves and are members of the Motorradfreunde Weserbergland.
You will find us at Biker-Betten and members of the "Motorradfreunde -Weserbergland" receive special conditions.
Arrival by GPS: N 52°03´23" - E 9°03´29"
Our own tour suggestions with GoogleMaps:
Der Kurvenkönig The Curve King Journey time 4 hrs 29 mins (208 km) Destinations: Hermann monument, Externsteine, SchiederSee, Köterberg, Kaiser Wilhelm monument
Bikerpoints Bikerpoints Journey time 4 h 43 min (257 km) Schwalenberg Castle, Tonenburg, Cafe zur Krukenburg, Eis-Heise Brunsen, Haus Landliebe, Die Kurve
Natur Pur Pure Nature 1 hr 47 min (95 km) through Kalletal, Extertal, Emmertal, Begatal
The tour planner for the Teutoburgerland can be found at https://www.teutonavigator.com/de/tourenplaner/ Start at 32699 Extertal, Sternbergerstr. 37
Further motorbike routes and meeting points can be found at http://www.motorradfreunde-weserbergland.de/ or on our unserer Webseite